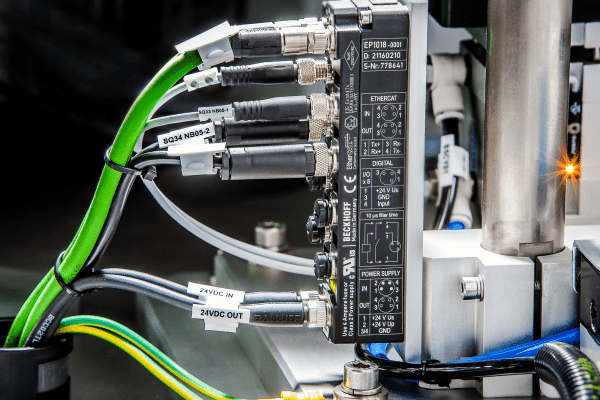 Continuing with our look into the innovative teams behind DesignPro, our series moves its' focus from Design onto our Controls Department, i.e. the team of people responsible for breathing life into each of our machines.
As momentum continues to grow in the manufacturing industry, technological advances in industrial controls has seen this sector become increasingly digitized and connected. This is something the Controls team at DesignPro have a clear focus on. We spoke to Alan Moynihan our Controls Supervisor to find out his view on these latest industry trends and how these advancements are helping manufacturers maintain successful operations.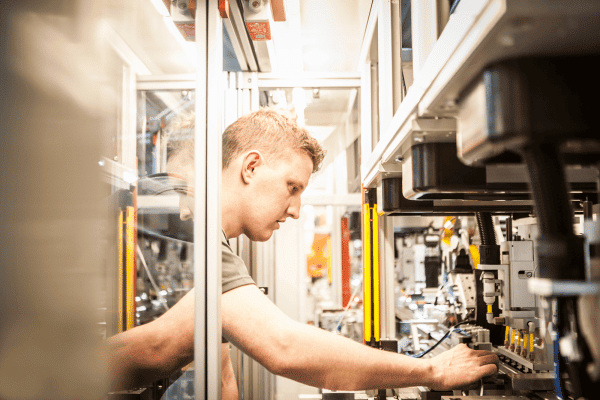 Alan heads up our team of 6 electrical engineers which comprises of Senior Engineers, Controls Technicians and Electrical Apprentices. A qualified electrician and a graduate of LIT in Industrial Automation and Robotic Control his background is in power and control systems from a wide range of industries such as large-scale power stations and intricate Control systems.
Shortly after the department was established the team began to build out quickly and saw the addition of another Senior Electrical Engineer, a Controls Design Engineer and 2 Electrical Apprentices to support the company's expanding project portfolio. More recently, the last year has seen the team grow and strengthen with 2 further Controls Engineers who bring with them great experience and organisation giving the Controls Department the ability to approach any project with confidence.
This department is responsible for creating the control mechanisms that manage and regulate all of our machines to the highest quality and safety standards. Working with high voltage systems means it's imperative that each member of the team has a clear understanding of their role and the company's ISO, Quality and Safety standards and procedures.
 "From the onset, everyone knows their role and involvement in the project with each member of the team being self-driven to make sure we complete our goals."
At the start of every project the team gets together to review the overall specifications of the machine design. They then gather all the information and customer requirements, assessing any new systems involved to highlight possible issues that may require offline development or R&D support. Once this has been established the team use their expertise and design experience to create power circuits, safety control circuits and I/O lists to support the Automation department using Solidworks Electrical. A bill of materials is created for the purchase of electrical panels and machine equipment/controllers to allow machine and panel wiring to begin. The machine then goes through a full safety test and debug with automation support. This ensures that all our systems perform in a stable manner and deliver products to the customers required specifications.
The biggest advancement/trend in Control systems that Alan sees at the moment is towards smart factories and systems driven by Industry 4.0 and the Internet of Things – IoT. These factories of the future will enable companies to communicate, monitor and control multiple production lines from a central system.

"We use Beckhoff's Industrial PC based control system to communicate a machines current statistics and trends to the customer which in turn allows them to increase production and engineering efficiency as a result. By designing and building projects to these standards our machines can easily integrate into any existing production systems."
When it comes to keeping up to date with the latest developments in controls technology Alan was keen to highlight how invaluable the support is from our key international suppliers; Beckhoff, Rockwell Automation, Siemens, ABB and Schneider among others. Each offering a wealth of knowledge through their online technical support.
With over 13 years' experience as custom machine builders DesignPro has built up a fantastic reputation for taking on a diverse range of innovative solutions. Our Controls department continues to grow from strength to strength, advancing alongside the latest systems technology and adapting to the new challenges presented in the global manufacturing environment.
If you have a project or a specific electrical requirement you would like to discuss our Controls team are always available to answer any questions you may have. Call us today.