Product transfer processes are essential to any assembly production line and can facilitate the movement of tens of thousands of parts per hour. From simple small batch assembly to high-volume production, we can offer an efficient, high performance system.
Our product transfer systems simplify and accelerate the manufacturing process to facilitate the quick and easy movement of all types of products. We work with trusted suppliers to provide a solution that will compliment any transfer application your company may have.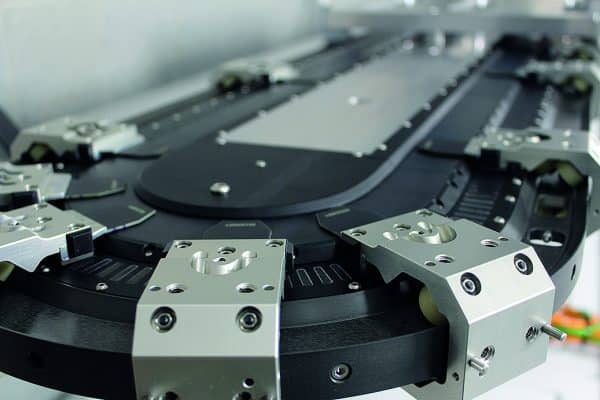 Intelligent Transfer
Our experience using multiple, fully programmable XTS linear transport systems as the transfer drive has allowed us to build small to large multi-station systems.
Rotary Transfer
Through high-precision servo rotary indexing table transfer systems, we can deliver a small circumference system with multiple stations to a small footprint.
Linear Transfer
When high loads and positioning accuracy are required, we utilise precision link conveyors. We have integrated table top-size conveyors to heavy-duty versions.
Product transfer systems we have integrated include

:
Rotary/Index Table

Compact in design, with high levels of accuracy and repeatability. We can supply indexers that increment from 2 to 60, with cycle times up to 220 c/m, and accuracy from ±15" to ± 55".
Servo Timing Belt Transfer

A custom-made product that features a low rotor moment of inertia and a very high overload capacity. These technical characteristics mean the most highly dynamic applications can be realised.
Beckhoff XTS

An intelligent linear system with the benefits of a rotary solution. Reduced construction volume results in a smaller machine footprint. The XTS offers speeds of 4m/s with a positioning accuracy of < ±0.15 mm at 1.5 m/s.
Precision Link Conveyors

Modular in design and available in different lengths, surfaces and widths, from flat to cleats, with integrated or end drives. Capable of loads from 1kg to 125kgs with speeds up to 110m per minute. The Precision Link's roller bearings and precision ground cam followers ensure a smooth transfer and long life in our projects.
Puck & Palette

Double belt and accumulation roller conveyor systems to transport weights from a few grams up to 300 kg. Integrated identification systems control the workpieces in the system and document quality assurance data.