Today we are delighted to announce a significant milestone for our ambitious, ongoing project to commercialise a range of innovative hydrokinetic river turbines. The project kicked off in July, just over 4 months ago, and one of our first major deliverables involved the selection of a suitable test site to deploy our 25kw device for a 12 month period. 
Following thorough research into potential sites and a strict international tendering process, we can now reveal that SEENEOH, whose test site is located on the Garonne River in the heart of Bordeaux France, is our chosen site. SEENEOH is a state of the art facility which enables device developers to rigorously test their turbine solutions prior to going on the market. The site became fully operational in March 2017 and features three testing berths. We are the second company to utilise the site, the first being French device developer HydroQuest. We will be deploying our 25kw device there in April 2018 where the turbine will operate up until April 2019. 
The testing phase will look at everything from; durability, wear-and-tear analysis, fish impact assessments, environmental impact, certified power curve generation and operation and maintenance procedures, all essential factors to ensure the turbines are market-ready. 
Our Managing Director Paul Collins, expressed his confidence and hopes for the next exciting phase of the project: 
 "

Having our test site for the 25kw device confirmed means we can now move ahead with finalising the device design and start building. From initial enquiries with the 

Seeneoh

 team, right up to contract signature today we have found them a highly professional, enthusiastic and accommodating team that really understand the niche industry we are operating in. We look forward to a valuable and positive working relationship that we hope will open doors for further opportunities and partnerships in France.

"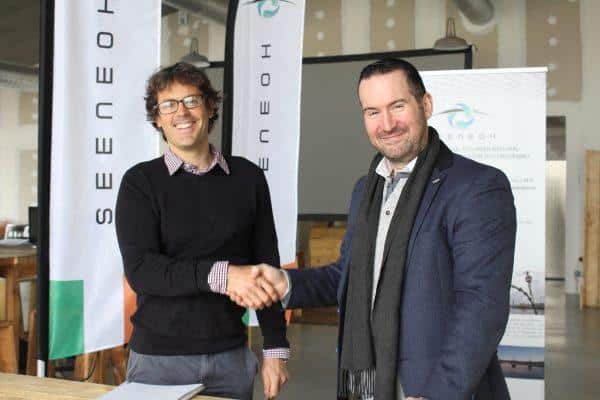 Marlène Kiersnowski, SEENEOH's tidal test site manager, had the following to say on the announcement:
 "

This second user, arriving 4 months after the first one, confirms the reality of the international market for tidal. We are very proud to support the tidal industry through the testing we supply to a very motivated and impressive Irish team. The good news echoes the French Prime Minister's speech in Le Havre recently during the Maritime Economy Conference, the annual 

rendez-vous

 for the French maritime economy.

"
The 25kw device, which will be unveiled in March 2018, will have the ability to power up to 20 Irish homes. It will undergo initial tow tests in Limerick Docks before being finalised and shipped to France for deployment in early April 2018.  
We will now continue to research potential deployment sites for our larger 60kw device which is scheduled to begin testing in July 2018. The project already employs a dedicated team of 5 with plans to hire a further 3 positions over the next 6 months.