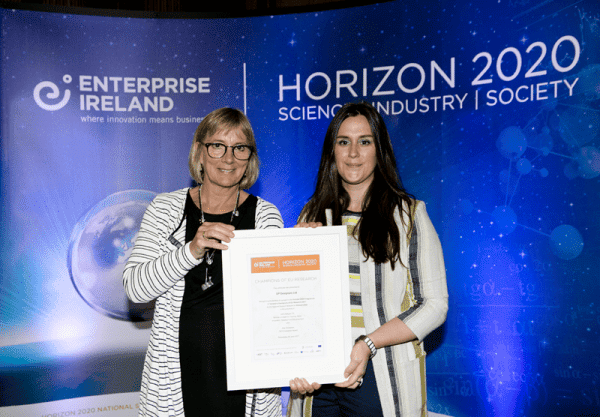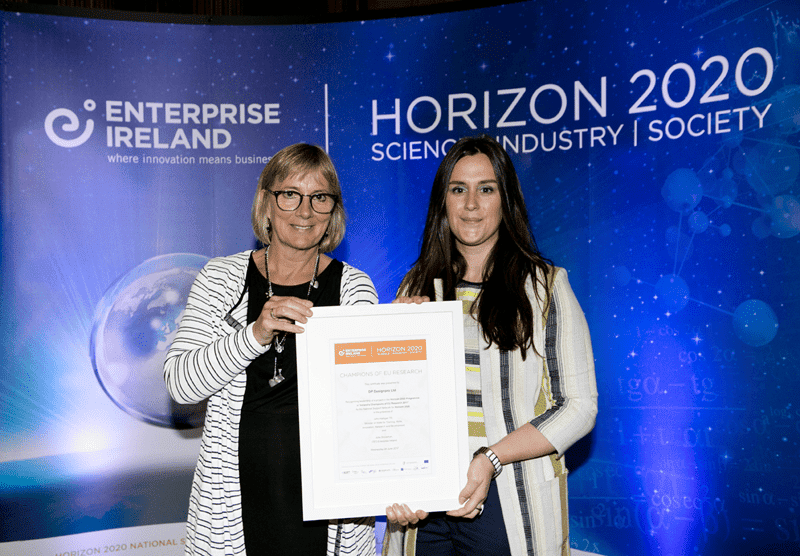 Last week we had the honour of attending the 'Ireland's Champions of EU Research' awards ceremony in the Royal Hospital Kilmainham, Dublin. The event was hosted by Enterprise Ireland and saw over 300 project leaders receive recognition for their success in the €75 billion Horizon 2020 EU Framework Programme for research and innovation.
John Halligan T.D., Minister of State for Training, Skills, Innovation, Research and Development and Julie Sinnamon, CEO of Enterprise Ireland presented the awards on the day which saw 16 projects singled out for outstanding achievement and leadership in their respective projects.
Of these 16, DesignPro was one of only two SME's acknowledged for reaching the pinnacle of European research and for having the second highest scored Irish application for a Phase 2 SME project. Projects ranged from developing breakthroughs in breast cancer treatment to delivering sustainable EU-China food safety partnerships, all with a focus on tackling societal challenges and enabling enterprise development.

In February 2017, DesignPro successfully secured EU funding for a €2.7 million Horizon 2020 project to develop a range of innovative HydroKinetic turbines. Europe, as well as many other countries around the world, is rich in small and medium-sized rivers and straits between islands. The development of river turbines will offer countries a reliable solution for harnessing their natural resources for generating zero-carbon energy from rivers, estuaries and canals. Since receiving the funding, we have been able to expand our operations and further develop our plans to commercialise a full range of innovative, hydrokinetic turbines. The grant agreement was signed off on in June this year and the 27 month project officially began on the 1st of July.
Speaking to Roisin Mc Cormack, Sales & Marketing Manager at DesignPro, who led the Phase 2 application within DesignPro, she had the following advice for other companies that may be considering or trying to secure H2020 SME funding:
"For us the SME Instrument offered the support and funding to achieve our goal much quicker than we would have been able to without H2020. The application process is by no means easy and you should expect to put in a few months (minimum!) of hard, focused work."
Outside of the funding, the process for DesignPro has been an invaluable one. It forced the company to really question its business model, ensuring that the end result was a solid goal that was clearly outlined.
All in all the H2020 Process has been a challenging but very rewarding one for DesignPro and we're delighted to have received this recognition. The Horizon 2020 EU Framework Programme runs until 2020, if other companies are interested in applying they can find more details on the application process here. We would also strongly encourage companies considering applying to reach out to their National Contact Point who were a huge source of support for us during the process.