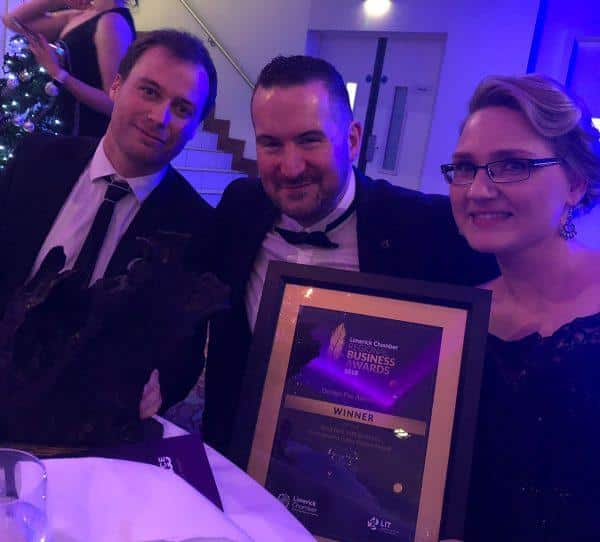 Redmond Mc Donnell, Financial Director; Paul Collins, Managing Director and Madeleine Collins, Quality Manager, DesignPro Automation.
It's been quite a month for us on the awards circuit here in DesignPro. On the 2nd November, the company took home an overall National Award for our Innovative Designs at the Deloitte Fast 50 awards and on Friday 16th November we scooped the 'Best SME: Contribution to the Region 2018' award at the Limerick Chamber Regional Business Awards.
The Limerick Chamber Awards, now in its 8th year, is held annually by Limerick Chamber, with Limerick Institute of Technology as partners. The awards are designed to acknowledge companies in the local region for their innovation and commitment. Over the years it has showcased some of the region's finest businesses and entrepreneurs. This is our second time in fours years winning the overall award for Best SME, first in 2015 and now in 2018.
In those four years, our turnover has increased by 350% per annum with staff numbers increasing by nearly 300%, with a number of open positions and still on an ambitious recruitment drive. CEO, Paul Collins attributes our success to; investment in our people, improvement in our key processes and the development of strategic partnerships with industry world leaders such as KUKA Robotics. He had the following to say:
"We're delighted to receive this recognition, our site in Rathkeale has offered us a great opportunity to expand and establish ourselves as one of the largest machine builders in the country. DesignPro is in a great position in that a lot of our supply chain requirements from an engineering point of view can be sourced locally and we are lucky to have such a skilled workforce on our doorstep. 2018 has had some fantastic milestones for us and with the recent announcement of a new dedicated robotics division and further expansion we look forward to what 2019 has in store."
Speaking at the Limerick Chamber new chief executive Dee Ryan praised the standard of entries received this year.
"The quality has been really high. The amount of work and time which has gone in from judges has been great to see. The judges would have spent ten hours on this process. It was a really thorough process."
The annual Limerick Chamber Awards is sponsored by LIT and took place on Friday 16th December at The Limerick Strand Hotel. It was attended by over 400 of the region's top business leaders and local representatives. You can see a full list of all the winners on the night here.