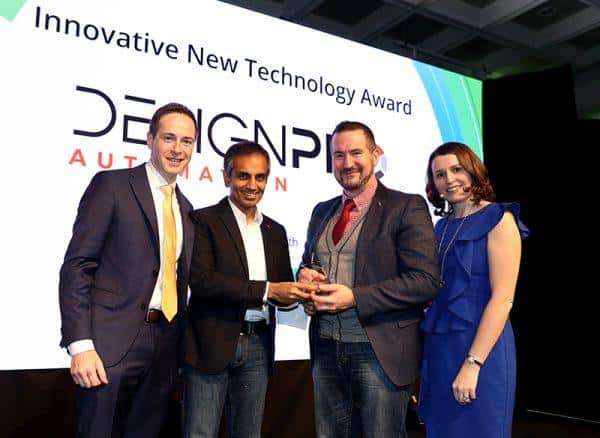 David Shanahan, Partner, Deloitte, Koushik Chandrashekar, Paul Collins, DesignPro Automation and Louise Kelly, Deloitte.
On Friday 2nd November 50 of Irelands most progressive company's gathered in Dublin to celebrate their achievements and discover their ranking at the Deloitte Technology Fast 50 Awards 2018. We were among the attendees on the night and were thrilled to secure the top award for 'Innovative New Technology in association with Google'.
In 2015 we received funding from the EU's Horizon 2020 SME Instrument for a €2.7M project to commercialise small-scale hydrokinetic turbines which allowed us to establish a dedicated division, DesignPro Renewables, and it was this innovative technology that won us this overall award on the night.
A ranking of the 50 fastest growing technology companies in Ireland was also revealed on the night which gave us more cause for celebration as we were placed 19th. Rankings are based on average percentage revenue growth over four years. In the last four years, our company turnover has increased by 350% per annum plus staff numbers have increased by nearly 300%. We attribute this success to; investment in our people, improvement in our key processes and the development of strategic partnerships with industry world leaders such as KUKA Robotics. Our CEO, Paul Collins had the following to say:
"We're delighted to have gotten this recognition particularly for the renewables project which has been a very rewarding challenge for the company to date. When it comes to new, innovative technologies the concept alone is not enough to make it a success. It requires a strong dedicated team, the infrastructure and resources to make it a reality and the commitment to see it through. 2018 has had some fantastic milestones for us and with the recent announcement of a new dedicated robotics division and further expansion we look forward to what 2019 has in store."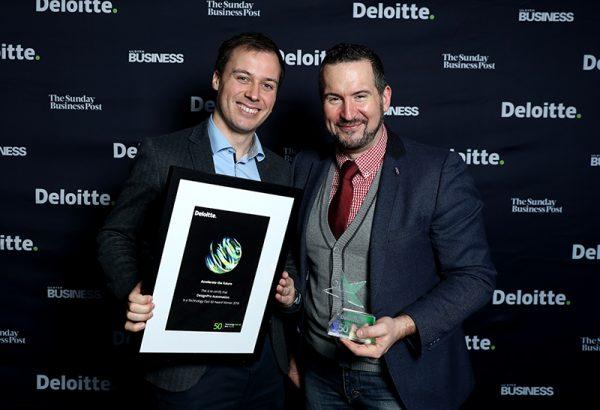 Redmond Mc Donnell, Financial Controller and Paul Collins, Managing Director of DesignPro.
The awards, now in their 19th year and one of the most established technology contests in Ireland, recognise indigenous technology companies that have demonstrated exceptional growth in turnover in the last four years. Cumulatively, the 2018 Fast 50 winners generated approximately €2.5 billion in total annual revenues in 2017. The average revenue of companies featured in the ranking was approximately €50 million, while the average growth rate of the companies over the last four years was 373%.
Announcing the winners at the Deloitte Technology Fast 50 programme, David Shanahan, Partner, Deloitte, said:
"Congratulations to our 2018 Deloitte Technology Fast 50 companies. Through these awards, we recognise Irish technology companies that are at the cutting edge, using technology for progress, to address the challenges that we all face and to create opportunities, both for themselves and for those that use their products."
"We know that these companies are operating in an uncertain international marketplace. And yet they are prospering against this backdrop – in fact, it was particularly evident this year that the vast majority of revenues for the ranking companies are coming from export markets. This demonstrates the impact Irish indigenous tech companies are having in global markets."
The Deloitte Technology Fast 50 Awards took place in Dublin on 2 November 2018 and were hosted by science and technology journalist, and founder of Whipsmart Media, Jonathan McCrea. Keynote speaker on the night was Mark Casey, Global Leader of Telecoms, Media & Entertainment at Deloitte.
Details of the full Deloitte Technology Fast 50 ranking list are available to download at www.fast50.ie.