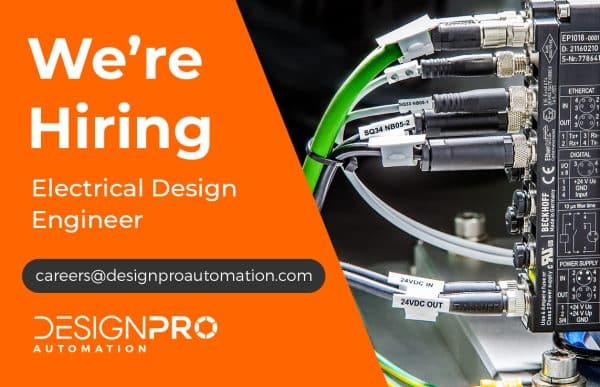 An excellent opportunity is now available for the following position:
Electrical Design Engineer
We are seeking a talented and dedicated Electrical Design Engineer to join our dynamic engineering team. As an Electrical Design Engineer at DesignPro Automation you will play a vital role in the design, development, and integration of electrical systems for our advanced machinery. Your expertise will be instrumental in ensuring the reliable operation and optimal performance of our machines, as well as contributing to the overall success of our projects.
Third level qualification in Electrical/Electronic engineering, Electrical Apprenticeship or other relevant electrical design related discipline.
3-5 years' experience in an electrical design role is essential
Experience in instrumentation and control panels.
Proficiency in CAD software (e.g., AutoCAD, EPLAN) and electrical simulation tools.
Knowledge of Standards – EN 60204-1, EN 13849-1
Proactive, excellent communication skills with the ability to work well with others in a multifunctional project team.
Understanding of safety standards and regulations relevant to electrical systems.
Excellent level of attention to detail and accuracy
Excellent problem-solving skills with the ability to troubleshoot complex electrical issues.
Self-motivated individual with a high level of initiative.
Electrical Design: Collaborate with a multidisciplinary team of engineers to create electrical schematics, diagrams, and layouts for our machines, adhering to industry standards and safety regulations. Create I//O lists based on mechanical design and client requirements and select the appropriate PLC Hardware.
Component Selection: Evaluate and select electrical components, such as motors, drives, sensors, and PLCs, considering factors like functionality, efficiency, cost, and availability.
System Integration: Integrate electrical systems with mechanical components and automation software, ensuring seamless operation and compatibility across the entire machine.
Testing and Troubleshooting: Conduct thorough testing and debugging of electrical systems to identify and resolve issues, ensuring machines meet performance and reliability expectations.
Electrical Documentation: Generate comprehensive documentation, including BOMs (Bill of Materials), wiring diagrams, user manuals, and technical specifications, to facilitate manufacturing, installation, and maintenance processes.
Safety Compliance: Ensure all electrical designs comply with relevant safety standards and regulations, implementing protective measures to mitigate potential hazards.
Continuous Improvement: Contribute to the continuous improvement of existing designs, processes, and methodologies, leveraging innovative technologies and best practices.
Commissioning Support: Provide on-site support during machine commissioning and start-up, assisting with electrical system setup and configuration.
Cross-Functional Collaboration: Collaborate with mechanical engineers, software developers, project managers, and clients to deliver comprehensive and integrated solutions that meet customer requirements.
Research and Development: Stay up to date with the latest advancements in electrical engineering, automation, and industrial technologies, applying new knowledge to enhance our products and services.
Join our passionate team of engineers and make a significant impact on the future of automation and machinery. If you are an innovative thinker and possess a keen eye for detail, apply now to become an integral part of DesignPro Automation's success story.
Submit your CV to careers@designproautomation.com or contact Paula Power at +353 (0)69 63842 Ext 312 for further information.
The closing date for receipt of applications is Friday 1st December 2023.