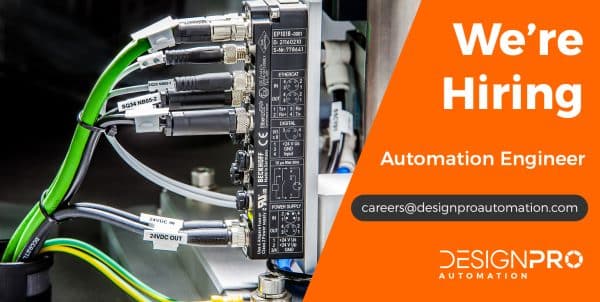 An excellent opportunity is now available for the following position:
The successful candidate will work in a team of Automation Engineers. PLC programming and HMI screen development are key aspects of this role, taking a lead role in assigned automation projects to ensure on-time, efficient, and high-quality delivery to the customer.
He/she will work in a multi-platform environment with software including but not limited to, Allen Bradley, Beckhoff, and Siemens. Working closely with the engineering design team on the development of process flow diagrams, software design specifications and test plans will also be an integral part of the role. The candidate will require a strong background in automation/software development with an understanding of the full cycle of software/application development.
Third level qualification in electronics, automation, computer science or other relevant engineering discipline.
Minimum 3-5 years' experience in hands on PLC program development in one of the following:
Allen-Bradley (Control/Compact Logix), Beckhoff (TwinCAT 3) or Siemens (TIA Portal).
Excellent understanding of machine automation logic and motion control.
Experience in developing HMIs or other operator interfaces.
Robotics integration experience is an advantage but not essential. (KUKA, ABB, Fanuc).
Machine vision integration experience is an advantage but not essential (Cognex, Keyence).
Working as part of a project team who designs and builds new automated machines to meet customer-specific requirements.
Strong communication and teamwork Skills.
Self-motivated individual with a deadline-oriented focus.
Strong analytical and troubleshooting skills.
Current driving license and flexible to travel as required.
Develop, install, and debug code for new machines and updates to existing machines in line with specified customer requirements including system integration and testing of same within the final machine to GAMP 5 level.
Ensure all work carried out, is in compliance with the required standards, conforming to company (cGMP).
Analyse, understand, fault-find, and modify software programs in-house, on the customer site, and remotely.
Support the development of automation documentation including process flow diagrams, support software design specification, automation test plans, and electrical sheets with IO lists for automation projects working closely with the allocated project team.
Specify automation hardware for projects with support/review from the Automation Manager
Ensure focus on the key principles of software quality – maintainability, dependability, efficiency & usability in terms of code structure, documentation, revision history, and storage.
Review and recommend changes to machine design as per software requirements/implications.
The Automation Engineer will work and communicate closely with the automation team both in-house and external developers, project designers, electricians, and operations to ensure all inputs and requirements are considered and projects of a high quality that comply with standards are delivered in a timely and cost-effective manner.
Responsible for completing automation tasks within budget and schedule.
Reporting on all project activity ensuring an up-to-date project status is readily available.
Authorised to carry out installations and to support the installation team, as required.
Support/Train more junior staff (where applicable) to ensure customer end goals are achieved.
Attend meetings as required to ensure full and up-to-date knowledge of requirements from an automation perspective, also giving input as required and addressing any follow-up on actions.
Develop in-depth technical knowledge of different automation systems and new technologies.
Provide technical support to customers remotely and visit their sites when required.
Complete records and follow procedures in accordance with the Quality Management System.
Ensure all duties are carried out adhering to health and safety policy.
Attractive salary in line with experience.
Health Insurance
Pension Scheme
Life Assurance
Training and Educational Assistance
Company Phone
Day off on your Birthday
If you are interested in pursuing a career in a highly progressive, dynamic, and team-orientated environment, please submit your CV to careers@designproautomation.com or contact Paula Power at 069 63842 ext.312 for further information.
The closing date for receipt of applications is Friday 16th June 2023.
DesignPro is an Equal Opportunities Employer