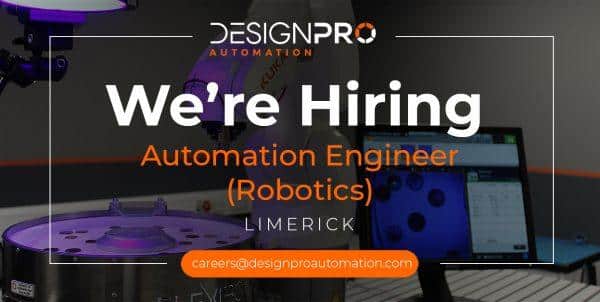 An excellent opportunity is now available for the following position:
Automation Engineer (Robotics)
The successful candidate will work in a team of Automation Engineers (PLC, Robotics, Vision). Robotic specification and program development are key aspects of this role, taking a lead role in assigned Robotics projects to ensure on-time, efficient and high-quality delivery to the customer.
He/she will work in a multi-platform environment with software including but not limited to, Kuka, Fanuc, and ABB. Working closely with the engineering design team on the development of process flow diagrams, robotic software design specifications, and test plans will also be an integral part of the role. The candidate will require a strong background in automation/software development with an understanding of the full cycle of software/application development.
Third-level qualification in electronics, automation, robotics, computer science, or other relevant engineering disciplines.
Minimum of 5 years experience in hands on robot program development in one of the following:
– KUKA (KRL/WorkVisual)
– FANUC (Karel/Roboguide)
– ABB (RAPID/Robot Studio)
Excellent understanding of machine automation logic, motion control, and robotic coordinate systems.
Review and confirm Robot specifications to align with project requirements.
Experience in developing 3D simulations for Robotic Cells (Delfoi Robotics).
PLC or Vision System integration experience an advantage but not essential.
3D Simulation of Robotic Cells experience an advantage but not essential.
The development of Robotic Welding programs experience an advantage but is not essential.
Working as part of a project team that designs and builds new automated machines to meet customer-specific requirements.
Strong communication, teamwork, and organisation skills.
Self-motivated individual with a deadline-oriented focus.
Strong analytical and troubleshooting skills.
Current driving license and flexible to travel as required.
Develop, install, and debug code for New Automated Machines and Robotic Cells in line with specified customer requirements.
Ensure all work carried out, is in compliance with the required standards, conforming to the company (cGMP, SOPs).
Ensures that robotic machines operate safely, dependably, and with precision; identifies and implements modifications.
Analyse, understand, fault-find, and modify software programs in-house, on customer site, and remotely.
Develop process flow diagrams, robotic software design specifications, and test plans for robotic projects, working closely with the engineering design team.
Develop and lead projects for robotic programming, 3D simulation, and system integration and testing of same within the final machine to GAMP 5 Level.
Ensure focus on the key principles of software quality – maintainability, dependability, efficiency & usability in terms of code structure, documentation, revision history, and storage.
The Automation Engineer (Robotics) will work and communicate closely with the automation team both in-house and external developers, project designers, electrician and operations to ensure all inputs and requirements are considered and projects of a high quality that comply with standards are delivered in a timely and cost-effective manner.
Responsible for completing automation tasks within budget and schedule.
Reporting on all project activity ensuring an up-to-date project status is readily available.
Support more junior staff to ensure customer end goals are achieved.
Organise and attend meetings and address any follow-up actions as required.
Develop in-depth technical knowledge of different automation/robotics systems and new technologies.
Provide technical support to customers and visit their sites when required.
Complete records and follow procedures in accordance with the Quality Management System.
Ensure all duties are carried out adhering to health and safety policy.
If you are interested in pursuing a career in a highly progressive, dynamic, and team-orientated environment, please submit your CV to careers@designproautomation.com or contact Paula Power on 069 63842 ext.312 for further information.
The closing date for receipt of applications is Friday 3rd February 2023.
DesignPro is an Equal Opportunities Employer