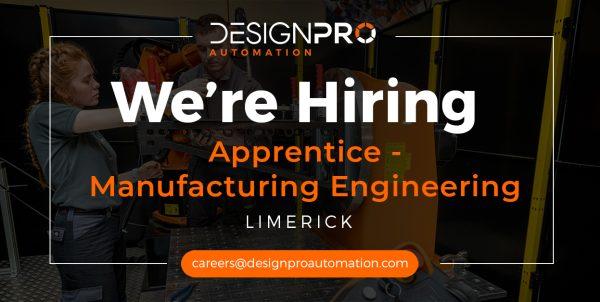 An excellent opportunity is now available in our Engineering Department for the following position:
Apprentice – Manufacturing Engineering
The successful candidate will enter into a level 6 Manufacturing Engineering Apprenticeship and will work with the Assembly and Manufacturing Team to enable them to grow and develop into a technical/engineering role within Company, with the opportunity to progress to a level 7 qualification in Manufacturing Engineering. This is an opportunity for an individual with drive, determination and passion for being involved with new innovative technologies for the manufacturing of the future. The level 6 programme will run over two years with 70% on the job and the remaining 30% in TUS Limerick which will involve attending a 15-week block each year.
Minimum Leaving Certificate, having obtained a minimum of 5 O6 (pass) grades. These subjects must include a grade O6/H7 or better in Mathematics and English or Irish. Engineering and Technical Drawing, an advantage.
Strong technical/engineering aptitude.
Genuine interest and commitment to pursuing the Apprenticeship
High level of initiative and adaptability
Team player.
Assist the assembly team in the layout and assembly of all components for machine builds gaining exposure to drawings and 3D model specifications. The individual will be developed in the role through mentoring, hands on experience and attendance at the academic blocks.
Assist in the set up and operation of equipment/tools to build and debug machines.
Comprehend technical documentation drawings, operating instructions and schematics.
Provide assistance and support as required throughout all aspects of the machine build.
Assist the mechatronics team in the test and debug of machines and in process improvement activities.
Completion of Quality Management System records in order to maintain effective QMS.
Attendance at the academic blocks (15 weeks per year) which will involve the following subjects:
YEAR 1– Engineering Maths, Manufacturing Engineering, Computer Aided Design, Learning Innovation Skills, Electrical Science, Quality, Industry module 1.
YEAR 2 – Engineering Maths, Metrology, Manufacturing Design of Fixtures, Maintenance & Safety, Manufacturing Automation, Manufacturing Engineering, Quality, Lean Manufacturing, Industry Module 2.
Ensure all duties are carried out adhering to health and safety policy.
If you are interested in pursuing a career in a highly progressive, dynamic and team-orientated environment, please submit your CV to careers@designproautomation.com or contact Paula Power at +353 (0)69 63842 Ext. 312 for further information.
The closing date for receipt of applications is Friday 25th November 2022.