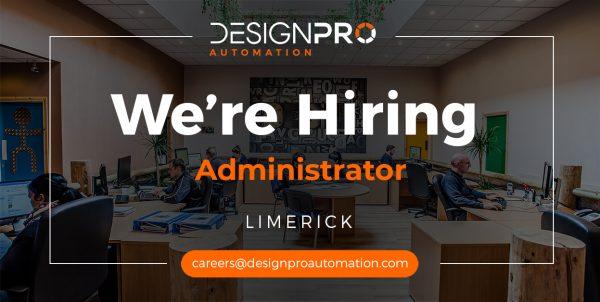 An excellent opportunity is now available for the following position:
DesignPro Automation, a leading provider of precision automation and machine build services is currently recruiting for an Administrator. This role will predominately work in the Project Management Department as well as having a pivotal role in administrating and marshalling the complete intranet and teams platforms across the company, working closely with IT.
Up to date Office Administration/IT Training
Strong internal navigation and knowledge of MS365 applications.
Experience in an administration role with strong IT skills and application of MS365 – SharePoint and Teams.
Excellent MS Office Skills, Excel, Word.
Highly organised and structured individual.
Self-motivated individual with a high level of initiative.
Excellent communication and interpersonal skills.
Working closely with the Project Management Office, the job holder will be responsible for maintaining the PMO outputs to the company intranet and the PMO communication pages on a daily basis. Outputs include; Project Status, Global Resource Plans, upcoming events/meetings, site visits and incoming project start dates. Ensuring public company knowledge of project status from the PMO office.
The role will involve driving and ensuring the complete intranet and teams platforms for all areas in the company are up to date, marshalling and monitoring of same and ensuring up to date news items, articles from PMO and from the senior management team.
Maintaining and organising the Project Management MS teams department structure.
Attendance at online/inhouse PMO meetings, recording key items and actions and issuing to meeting members within MS teams.
Monitoring and checking to ensure key documentation is on record for the PMO according to different stages of the project.
Maintaining onsite public notices in relation to any PMO updates for staff.
In consultation with the Project Manager, source requested documentation and forward it to the customer e.g., confirmation of insurance, requests for training records prior to installations etc.
Carry out administrative tasks as requested by the Senior Management team, e.g., reporting, compiling presentations, researching new initiatives.
Complete records and follow procedures in accordance with the Quality Management System.
Ensure all duties are carried out adhering to health and safety policy.
If you are interested in pursuing a career in a highly progressive, dynamic, and team-orientated environment, please submit your CV to careers@designproautomation.com or contact the HR Department on +353 (0)69 63842 or +353 (0)87 9786230 for further information.
The closing date for receipt of applications is Wednesday 7th September 2022.
DesignPro is an Equal Opportunities Employer
[nectar_btn size="medium" button_style="regular" button_color_2="Accent-Color" icon_family="fontawesome" url="mailto:careers@designproautomation.com" text="APPLY NOW" icon_fontawesome="fa fa-envelope-o"]
[nectar_btn size="medium" button_style="regular" button_color_2="Accent-Color" icon_family="fontawesome" url="https://designproautomation.com/careers/" text="BACK TO CAREERS" icon_fontawesome="fa fa-arrow-left"]