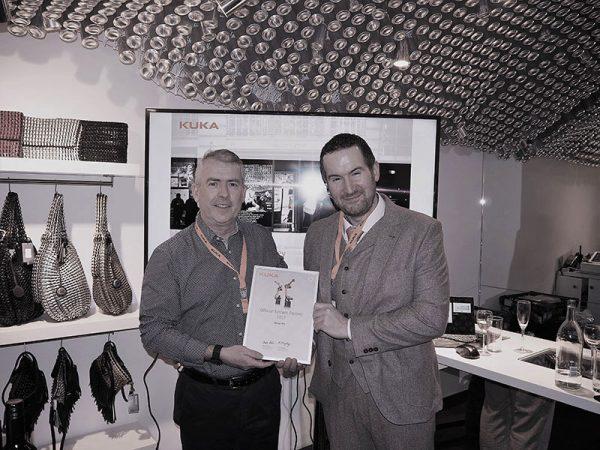 Our MD Paul Collins receiving his Official System Partner plaque from Brian Cooney, General Manager at KUKA Robotics Ireland. 
The robotics sector is experiencing phenomenal growth with recent reports from the International Federation of Robotics predicting that more than 1.7 million new industrial robots will be installed in factories worldwide by 2020. In 2015 we started to look into strategic options that would enable us to strengthen our existing foothold in this industry which led to the development of our partnership with KUKA Robotics. Their wealth of knowledge and experience, teamed with the fact that they are the only robot manufacturer with a physical office presence in Ireland made them a perfect fit for us. We now have a dedicated team of robotic engineers with a wide range of experience, primarily in KUKA but also in ABB, and Epson systems. 
As a specialist in the field of robotics and automation technology, KUKA is one of the leading global manufacturers of industrial robots in the world today. Their wide selection of robots covers virtually all payload ranges and robot types, and in addition to this they are leading the way in the field of human-robot collaboration (HRC). Being acknowledged as a System Partner with KUKA is not an accolade afforded lightly with a number of strict criteria having to be met, this is why we were thrilled to be awarded this official status back in May 2016. Now coming up on our 2 year anniversary of this very successful partnership we were delighted to be presented with our System Partner certificate at an exclusive event hosted by KUKA in London on Friday 26th January. 
The event was held at Bottletops newly opened Regent Street 3D printing flagship store and what a unique venue it was. The store is the brand's first permanent retail outlet where customers can avail of their sustainable luxury fashions accessories whilst also interacting with KUKA's newest iiwa robot and printing their own bags with Reflow's custom recycled plastic fibre ingredients. Katherine Johnson, Sales & Marketing Manager for KUKA Robotics UK had the following to say about their choice of venue:
"Our partners are all ambassadors of the KUKA brand and have their own unique expertise and target markets into which they integrate KUKA robots. Bottletop.org however is very different to many of the industrial projects and applications that they are familiar with. For this reason, we wanted to immerse them in the contemporary, artistic beauty that is the interior at Bottletop.org"

 
This futuristic venue was the perfect setting for KUKA's Strategic System Partner Launch Event. The night saw fellow industry specialists including CNC Robotics, SCM Handling, Loop Technology and PC Moulding & Automation also recognised as Key System Partners for the global industrial robot manufacturer. In developing these strategic partnerships KUKA have managed to bring together a network of industry experts who are collaborating and sharing their technical knowledge, strengthening the automation industry as a whole. Jeff Nowill, KUKA's CEO opened the proceedings followed by Bernard Bagley, KUKA Robotics (UK) General Sales Manager.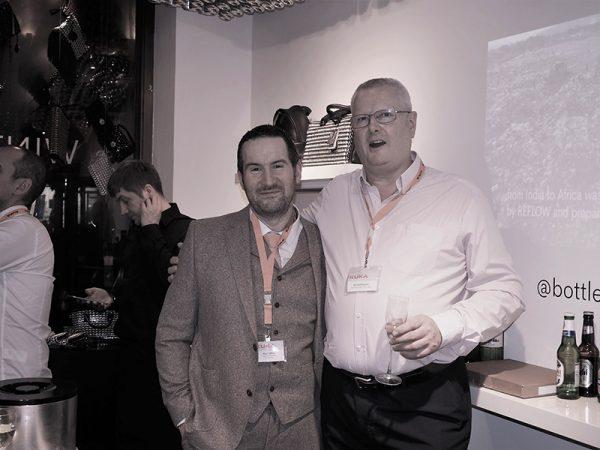 Paul and Bernard Bagley, KUKA Robotics (UK) General Sales Manager.
To date we have now installed over 20 KUKA robots in our custom built machines ranging from 3kg up to 30kg payloads. Robots such as the KR3 and KR6 are an ideal fit for the types of industries and applications that we work with. These applications can include high speed, high precision pick and place operations, general feeding, smart manipulation of product orientation and also end of arm tooling. Outside of these we have also utilised collaborative based robots to trial and test live medical applications and more recently focused on the KUKA KMR for Industry 4.0. Speaking with our Managing Director Paul Collins he had the following to say:
"
We now have a wealth of experience working with KUKA's six axis robots and this enables us to manipulate and program them to suit enclosed cells and perform complex operations that are part of our day to day work here in DesignPro"

We have successfully integrated KUKA robots such as this KR10 into pick and place operations.
We have seen first-hand the benefits of working with one of the world's leaders in industrial robotics. It has opened up opportunities to new markets and kept us at the forefront of the latest technological advancements. The wide range of support services and training available has meant that our robotic engineers are constantly developing their skill sets above and beyond the industry standard. 
If you are interested in finding out more about KUKA's range of robots and how we can help you to integrate them, contact us today to speak with one of our experienced robotic engineers. Well done to the KUKA Robotics UK team on organising such a great event, we look forward to attending many more in the future.
For more insights into the area of robotics these introductory articles may be of interest to you: