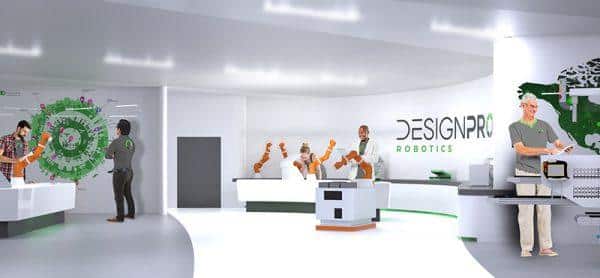 It's been an exciting week here at DesignPro, on Tuesday 25th September we launched a new dedicated Robotics division which will trade as a separate sister branch; DesignPro Robotics.
Having secured funding from Enterprise Ireland to the value of €534,000 to drive recruitment and growth over the next two years, we released our ambitious plans to commit significant resources to gain a larger foothold in the Robotics market. The plans see an expansion to our existing premise to incorporate a dedicated Robotics division with a recruitment drive aimed at bringing the staff total to 90 by 2020.
The announcement was made by our Managing Director, Paul Collins, during an exclusive, customer event earlier today. The event saw us showcase our facilities and capabilities, including our recently opened R&D facility, to a group of 50 hand-selected customers from leading multinational companies in the Medical sector. While we work across a variety of industries including automotive, pharmaceutical and renewable energy, the focus of this event was on Robotics and building on the existing success we have had integrating robots, particularly in the medical industry. Since the company was established in 2004, we have installed 100's of robots across a wide variety of industries and applications and our integrated solutions can be found in leading Multinational companies in China, Mexico, Europe, India, South Africa and the US.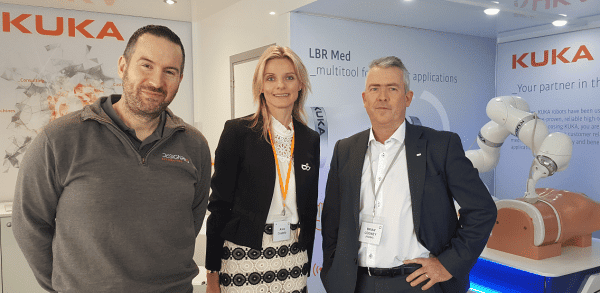 Paul Collins, Managing Director of DesignPro pictured with Anna Costello and Brian Cooney, KUKA Robotics Ireland Sales & Marketing Manager.
We also had some of our trusted suppliers showcasing on the day including leading global suppliers such as Beckhoff, Keyence, CBS, Baumer, Sciemetric, Schunk, Stemmer, SMC and IGUS. These suppliers were demonstrating the very latest in robotic processes and technologies.
A highlight of the event was having the KUKA 'demonstrailer' and team on-site to support us on this milestone achievement. KUKA Robotics is a leading, global robot manufacturer. Since May 2015, we have been the leading Industry Partner for KUKA Robotics in Ireland. The success of our partnership with them has put us at the forefront of developing new Robotic processes and purpose-built cells in collaboration with KUKA.
With regards to the announcement of the new jobs, we have already kicked off our recruitment drive, with 5 open positions as of the 25th September 2018 and more new roles expected to open up very shortly, particularly in the Robotics sector.
We continue to strive to be the best in the business, continually investing back into our facilities, team and processes, winning Best SME 2015 at the Limerick Chamber Awards and just this year winning the 'Best SME' (Ireland) award at the European Business Awards.
Speaking at the event, our Managing Director Paul Collins said:
"We are delighted to have made this announcement surrounded by the very best in the industry with regards our customers, suppliers, partners and indeed our own team. This is an important milestone for DesignPro, having now been at the Rathkeale facility since 2015, we are excited for this next new step. The addition of the Robotics branch will not only bring team growth and new opportunities but will ensure DesignPro stays at the forefront of Automation and Robotics going forward."
For more information and updates on this exciting new phase of our development go to our dedicated website at www.designprorobotics.com.[/vc_column_text][/vc_column][/vc_row]