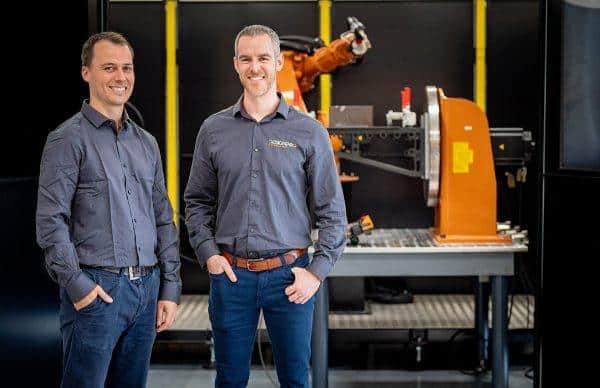 Redmond McDonnell, CEO of DesignPro Automation and Sean Dorris, Course Instructor & Robotic Welding Integrator.
PRESS RELEASE 28.08.20
Automation specialist DesignPro Automation has teamed up with Limerick and Clare Education and Training Board to offer Ireland's first certified robotic welding course. The dedicated training programme has been developed in response to the growing skills shortage within the industrial engineering sector. It will focus on arming the next generation of welders with an entirely new skillset to align them with the technological advancements in today's manufacturing industry.
The "Robotics Welding Traineeship', which is a 10-week, full-time course commences in October 2020 and will take place on-site at DesignPro's production facility in Rathkeale Co. Limerick. Learners will be taught the key functions of a welding robot, develop fundamental robotic programming skills and learn the most advanced mechanised welding techniques. It will offer participants the opportunity to understand how to safely and competently operate an industry-standard welding robot as well as exploring a range of welding processes including pulsed MIG, CMT, LSC and PMC.
DesignPro's in-house welding robotic integrator, Sean Dorris, will be delivering the course and brings a remarkable level of expertise with him; 20+ years' experience in the welding trade, 6 years as an instructor with the ETB, as well as being a certified KUKA and ABB robotics engineer. He has seen significant changes within the welding industry both nationally and internationally over the last 5 years, in particular the constantly evolving technology widening the skills gaps in the workforce. It was primarily for these reasons that he approached the ETB in early 2019 to collaborate on a traineeship to support the growing demands on the welding sector. He said,
"I have no doubt that welders will make the best robotic welding programmers, they will bring with them their knowledge of welding processes and utilise them in robotic welding operating/programming."

 
The course module was developed over a 12 month period with the ETB playing an essential role in making the traineeship a reality. Speaking ahead of the launch of the new course in October, James Power, ETB Manager of Contracted Training and Shannon Campus, said:
"We were delighted to develop this traineeship in Robotic Welding with DesignPro as we see it as a logical progression opportunity for learners coming off our Intermediate and Coded Pipe welding courses. The advantage to the learner of undertaking this or any traineeship with a company such as DesignPro is that the learner has access to the latest technology and gains experience in a live production environment, which cannot be achieved in an academic setting."

 
As a leading integrator of robotic solutions across a wide range of applications within the manufacturing industry such as; compact high-speed robots, collaborative robots, automated arc welding and tending solutions DesignPro's aim is to continue to look at new ways of advancing knowledge within industry. Redmond McDonnell, CEO, DesignPro, said:
"Robotic Welding is a prime example of where robotics can be utilised efficiently and effectively to deliver a strong ROI for the customer."

 
This collaboration between DesignPro and the ETB is a perfect example of how industry and educational institutions can work together utilising their specific expertise with the common goal of furthering the manufacturing industry as a whole.
Details on the Robotic Welding Traineeship course and how to apply can be found online at www.learningandskills.ie / www.fetchcourses.ie or by contacting Mary Manning on (061) 487 997, email fetraheen@lcetb.ie
[nectar_btn size="small" open_new_tab="true" button_style="regular" button_color_2="Accent-Color" icon_family="steadysets" url="https://learningandskills.ie/traineeships/#section-2″ text="APPLY NOW" icon_steadysets="steadysets-icon-arrow-right"]
This provision is co-funded by the Government of Ireland and the European Social Fund as part of the ESF Programme for Employability, Inclusion and Learning 2014-2020.