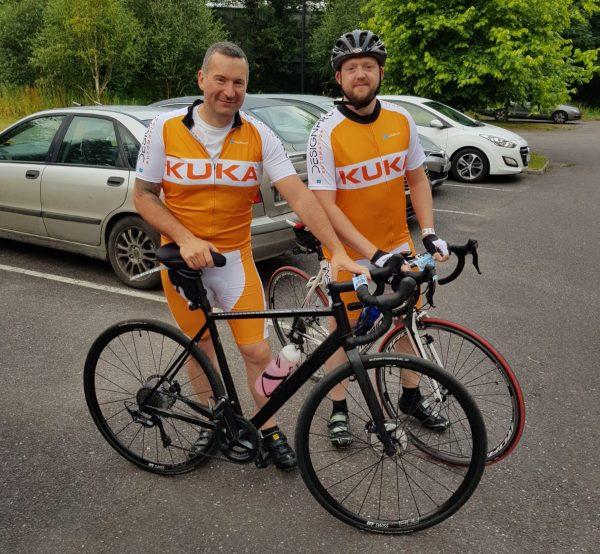 Our MD, Paul Collins & Engineering Manager Pat Downes sporting their new cycling attire kindly sponsored by KUKA Robotics UK/Ireland. 
We pride ourselves on the fact that our employees strive for achievement both at work and in their personal lives. Amongst our talented team we have accomplished Sailing National Champions, Autocross Champions and sculpted Body Builders just to name a few and on the 7th July 2018 it was the turn of our cyclists to put their endurance and sheer determination to the test. After 3 months of intense training the day finally came for Paul, our MD and Pat, our Engineering Manager to join almost 7,000 cyclists and take on the epic challenge of the Ring of Kerry Cycle.
The charity cycle, now in its 35th year has successfully raised over €15 million for 150 charity organisations. This year the number of charities to benefit from the cycle has expanded to include Enable Ireland which was the charity chosen by Paul and Pat. The 175km route started in Killarney and took in some of the county's most breath-taking views. Cyclists traveled through the towns of Killorglin, Cahersiveen, Portmagee, Waterville, Sneem, Kenmare, before finally returning to Killarney. This challenging course would put the most experienced cyclist to the test, but on the plus side it rewards its participants with some of the most amazing scenery. On completing the course Pat had the following to say:
"On the day I had expected the climb at Molls Gap to be the toughest part of the course but was surprised to find that it was the actual final stretch into Killarney that got the better of me. In saying that, it was a fantastic event that was great fun and well organised, I will definitely be taking part again next year."

 
Delighted to be over the finish line….and now time for some light refreshments 🙂
Both Pat and Paul would like to thank everyone who kindly supported them and their charity Enable Ireland. A special thanks also to our System Partner, KUKA Robotics UK/Ireland who generously sponsored the boys cycling gear on the day, I think you'll agree they looked very dynamic in their orange and white jerseys and shorts!
Congratulations to everyone who participated in the event and all the volunteers on the day, the atmosphere and camaraderie was amazing. More information on the event and the charities they support can be found on their website, https://www.ringofkerrycycle.ie/