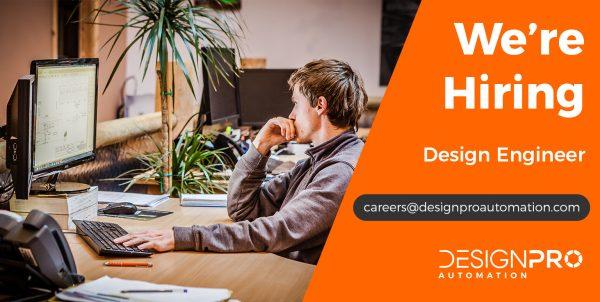 An excellent opportunity is now available in our Engineering Department for the following position:
The successful candidate will be responsible for project design from concept stage including preparation of detailed drawings, product specifications and parts list development.  He/she will also support the project from a design perspective through the manufacturing build on any queries regarding function, specification and testing.
Third level relevant qualification in mechanical engineering or other relevant related discipline.
3-5 years' experience in a design role is essential
Experienced in Solidworks CAD package is essential.
Excellent planning and organisation skills and exhibit a high degree of attention to detail.
Self-motivated individual a high level of initiative.
Utilising SolidWorks CAD package for design concepts, prepare detailed drawings for part and assembly design.
Design jigs, fixtures and special purpose machinery for multiple industries.
Liaise with customers during design reviews and meetings.
Produce engineering documents to include drawings, project specifications, parts list and all technical construction documents, adhering to CE standards for machine build and test specifications.
Authorised for drawing sign-off.
Communicate with relevant departments on project specifications.
Liaise closely with Project Management to ensure smooth development of the project and adherence to project plan.
Support during the manufacturing phase regarding function, specifications and testing.
Create, assess, modify 3D models and provide guidance to modelers, liaising closely with 3D modelers using communication platforms e.g. Microsoft teams, Word and Excel.
Carry out customer product inspection/validation.
Authorised to carry out internal and external tooling inspection, as required.
Carry out on site customer visits.
Adhere to company standards for quality assurance and quality control including documents and procedures.
Ensure all work is carried out adhering to health and safety policy.
If you are interested in pursuing a career in a highly progressive, dynamic and team orientated environment, please submit your CV to careers@designproautomation.com or contact our HR department on +353 (0)69 63842 Ext. 312 for further information.
The closing date for receipt of applications is Friday 22nd September 2023.
DesignPro is an Equal Opportunities Employer