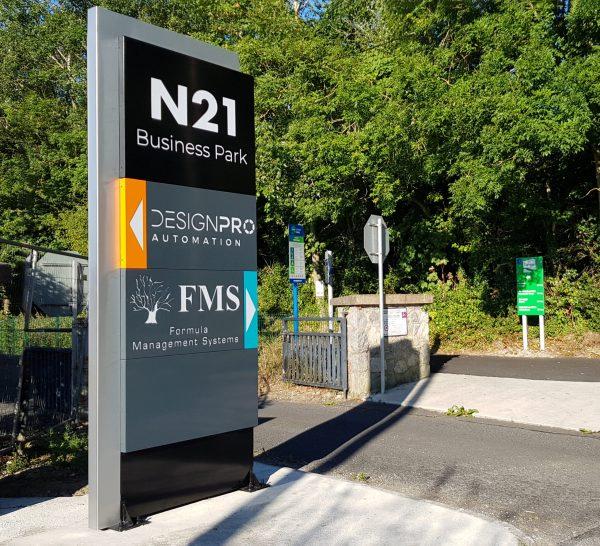 Our new entrance monolith sign, designed and manufactured by ViviPrint
In the last 12 months, three significant changes happened at our facility;
The fantastic Limerick Greenway opened up
We welcomed our new neighbour FMS to the area
Our industrial estate was formally named the 'N21 Business Park'
With all this new activity in the area, we became acutely aware of the need for clear directional signage and the fact that the entrance to our facility had become somewhat tired looking. With this in mind, we made the decision to invest in our entrance signage.
Our entrance before and after.
Our marketing team began to research various designs/structures and with the assistance of local signage company ViviPrint we are delighted to announce the installation of our beautifully crafted new directional sign.
As the saying goes 'it takes a village' and a huge effort was put in by our onsite production and electrical team in preparation for the unit and, of course, we waited for one of the hottest days of the year for the final installation!
A huge thank you to our production and electrical teams for all their hard work.
We are absolutely delighted with the final product and we'd like to share with you five things we love about our new sign.
1. Reflects the quality of our work – this sign was designed and manufactured using the same materials that form the structure of our automation machines. It is finished to the highest possible standard and perfectly represents the quality and professionalism that we attribute to every project we work on.
2. Allows us more exposure – with an estimated 500,000 visitors utilising the Limerick Greenway what better way to promote our company than at the entrance to this amazing amenity. We are currently on a big recruitment drive and, as more people look to gain a better work/life balance what could be better than having access to 40km of off-road greenway right on your doorstep. Whether it's a simple lunchtime walk or the option to cycle to work the Limerick Greenway is the perfect place to clear your mind and take some time out for yourself.
3. Opportunity to collaborate – FMS became our neighbours in January 2022 and, with both company entrances side by side it was important to clarify from a safety and logistics point of view which entrance was which. Our two teams worked seamlessly together to sign off on a final design and were extremely fortunate to have the signage expertise of ViviPrint on our doorstep to help guide us through the whole process.
4. Highlights industry is thriving – we relocated to the area in 2015 and in those seven years, we have seen significant investment in the Rathkeale industrial area with companies such as FMS, McAdare and The Washboard joining us in the building as well as some fantastic community-based groups such as The Butterfly Club and The Community Crisis Response Team.
5. Location, location, location – our location has been recently renamed to the 'N21 Business Park' which we feel gives a more accurate reflection of our close proximity to the national road networks. Our facility is ideally suited to our key market which is the Medical Device industry, 20 mins into Limerick city, an hour and 10 mins into Cork and with the new road to Tuam the gateway to the west coast has completely opened up.
This is just one of many projects we are investing in over the coming months we will be; installing more external signage, internal remodelling and launching a brand new online presence, so watch this space!